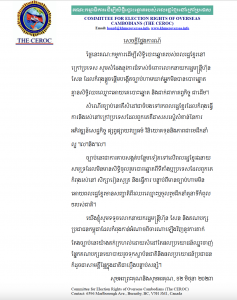 សេចក្តីថ្លែងការណ៍
ថ្ងៃនេះគណ:កម្មការដេីម្បីសិទ្ធិបោះឆ្នោតរបស់ពលរដ្ឋខ្មែរនៅក្រៅប្រទេស សូមសំដែងនូវការជំទាស់ចំពោះលោកនាយករដ្ឋមន្ត្រីហ៊ុន សែន ដែលកំពុងផ្តួចផ្តេីមបង្កេីតច្បាប់ហាមឃាត់អ្នកមិនបានបោះឆ្នោតគ្មានសិទ្ធិឈរឈ្មោះអោយគេបោះឆ្នោត និងដាក់ជាកាតព្វកិច្ច ជាដេីម។
សំណេីរច្បាប់នេះគឺសំដៅជាចំបងទៅរកពលរដ្ឋខ្មែរដែលកំពុងធ្វេីការនិងរស់នៅក្រៅប្រទេសដែលពួកគេគឺជាសសរស្តំសំខាន់នៃការអភិវឌ្ឍន៍សេដ្ឋកិច្ច ផ្សព្វផ្សាយវប្បធម៌ វិនិយោគទុននិងភាពជាមេដឹកនាំល្អ ។ល។និង។ល។
ច្បាប់នេះជាការគាបសង្កត់បន្ថែមទៀតទៅលេីពលរដ្ឋខ្មែរឯនាយសមុទ្រដែលមិនមានសិទ្ធិចូលរួមបោះឆ្នោតពីទីតាំងឬប្រទេសដែលពួកគេកំពុងរស់នៅ សិក្សារៀនសូត្រ និងធ្វេីការ បន្ទាប់ពីមានច្បាប់ហាមមិនអោយពលរដ្ឋ​ខ្មែរមានសញ្ជាតិពីរឈរឈ្មោះឬចូលរួមដឹកនាំតួនាទីកំពូលៗរបស់ជាតិ។
យេីងខ្ញុំសូមទទូចលោកនាយករដ្ឋមន្ត្រីហ៊ុន សែន និងគណបក្ស ប្រជាជនកម្ពុជាដែលកំពុងកាន់អំណាចពិចារណាឡេីងវិញនូវការតាក់តែងច្បាប់នេះយ៉ាងតក់ក្រហល់ដោយសំដៅតែផលប្រយោជន៍ឈ្នះចាញ់ ផ្នែកគណបក្សនយោបាយរួចទុកស្ថាប័នជាតិនិងផលប្រយោជន៍ប្រជាជន ក៏ដូចជាសាមគ្គីផ្ទៃក្នុងជាតិជារឿងបន្ទាប់សន្សំ។
សូមអរព្រះគុណនិងសូមអរគុណ
១២ មិថុនា ២០២៣
Statement
Today, the Commission for the Voting Rights of Cambodians in Overseas, we would like to express our opposition to Prime Minister Hun Sen, who is initiating a law banning non-voters, no right to stand for election and mandate voting as an obligation.
This mandatory election law proposal is mainly aimed at Cambodians who are working and living abroad; they are the main pillars of economic development, promotion of culture, investment, and experienced leadership, etc.
This law is an additional oppression to overseas Cambodians who do not have the right to vote from the locations or countries where they are residing, learning and working, after the law prohibits dual Cambodian citizens from standing for or participating in leading the top roles of the nation was amended.
We urge Prime Minister Hun Sen and the ruling Cambodian People's Party to reconsider while this law is hastily drafted, referring only to the interests of winning and losing political parties, and leaving the national institutions and the interests of the people as well as national unity as not a primary agenda.
Thank you and thank you
June 12, 2023